I have always loved the Cypriots for inventing the Halloumi, one of my favourite cheeses in the world. It is my desi Punjabi palate which succumbs to the addiction of milk products, whether it is a simple glass of milk to desserts made from milk and cheese.
This column is dedicated to the top of my charts—Halloumi cheese. It is an unripened brined cheese made from mixing goat and sheep milk. Some times even cow's milk.
This was probably invented in medeival Byzantine period (395BC to 1191BC), and subsequently gained popularity all over middle east.
The cheese is white, with a distinctive layered texture, similar to mozzarella and has a peculiar salty flavour. It is stored in its natural juices with salt-water and can be stored for up to a year, frozen below 0°F and defrosted to 39°F. It is often garnished with mint leaves to add to the taste. Traditionally, the mint leaves were used as a preservative, as in earlier days it was considered that when stored with mint leaves the cheese would remain fresh and flavoursome. Nowadays also many packages of halloumi contain fragments of mint leaves on the surface of the cheese.Traditional Halloumi is semi circular in shape and could weigh between 220-270 grams with its fat content around 47% of dry weight and about 17% proteins.The cheese has a high melting point which makes it apt to eat fried or grilled. I personally think it tastes better when grilled, also the healthier option .
Enough of theoretical part and now is the time for the main course , I mean recipes.
This cheese as I earlier mentioned is a versatile cheese as it can be grilled, fried or even eaten raw with some seasoning and chopped mint leaves. While I was visiting Dubai last week I was served thinly-sliced Halloumi with zatar (middle eastern spice) sprinkled liberally over the cheese with finely chopped fresh mint leaves, at one of the bars as finger food with my red wine.
Halloumi compliments most salads , as it can be just shredded or cubed, sprinkled on your salads to add an exotic salty edge. If you are a little liberal, diced fried halloumi cubes can also be added .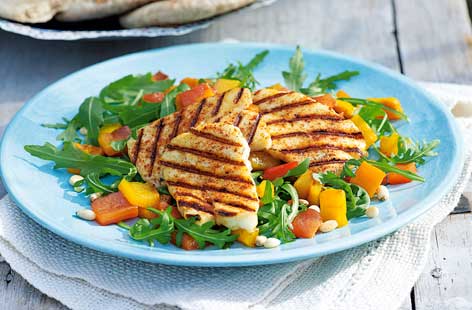 Grilled HALLOUMI
Ingredients
250 gms halloumi
olive oil
salt and pepper to taste
mint leaves chopped 1 tbsp
Preparation
● Pre-heat your indoor or outdoor grill to medium heat
● Slice halloumi cheese into wide, 1/2 inch thick slices and lightly brush each side with olive oil
● Carefully place on grill for just a few minutes on each side, until lightly browned and gently crisped; do not over-grill as it will spoil the taste
● Halloumi cheese is best served immediately, while it is slightly crispy on the outside and soft and gooey on the inside lightly seasoned and garnished with chopped fresh mint leaves.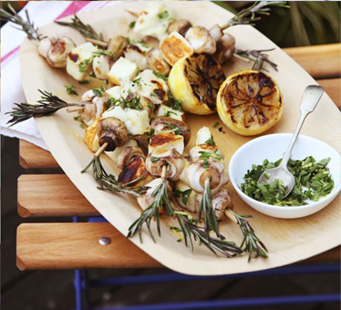 Grilled HALLOUMI with Onions & Mushrooms
Ingredients
● 1/2 cup large sized mushrooms, stems removed and washed
● 1 large sweet onion, cut into chunks the same size as mushrooms
● 1 pack (8-10 oz.) halloumi cheese, cut into chunks the same size as mushrooms and onions
● 1/2 cup red bellpeppers cut in squares of the same size
oil for lining the grill plate of the oven (VERY IMPORTANT)
Marinade Ingredients:
● Juice of 3 freshly squeezed lemons
● 2 tsp red wine vinegar
● 2 tbsp olive oil
● 1 /3tsp each of white pepper powder, salt , cumin powder
Instructions
● Remove any large stems from the mushrooms, wash with cold water, and let mushrooms drain in a colander. In a bowl add all the vegetables along with the halloumi cubes
● Blend together the lemon juice, red wine vinegar, olive oil, and seasoning to make the marinade. Put the mushrooms, onions and cheese pieces into a bowl and pour in the marinade.
● Let ingredients marinate in the refrigerator for 3-4 hours at least. Skew the halloumi along with other vegetables one by one and grill in a pre-heated oven at 250 degree C with the grilling plate brushed with oil before putting the skewers on the grill plate. Grill skewers about 6 minutes per side, using a flat turner to scrape the cheese away from the grill if needed when you're ready to turn them. Serve hot.