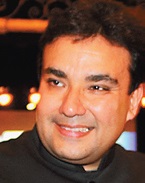 During 2005 I was invited to the Nehru center to speak about the Indian curry .Owing to a huge British demand of Indian curry there are many curry houses or restaurants all over England. UK celebrates national curry day in may every day. Curry is actually an English word . It was used by the British for the Indian dishes that could be eaten with rice. It however has its origin in South Indian word Kaari –which means vegetables cooked with spices. Curry making is an
art , it takes some practice and some deliberation to learn to put spices together along with seasonings and other flavours.Most often the name curry is given to any spicy dish or blend of spices that has an Indian or eastern flavour . A good thumb rule is that a curry that a curry is a dish containing sauted onions, ginger garlic and varying amounts of spices like turmeric, cumin, coriander , ginger, chili, cloves, fenugreek etc. In the name of curry many other dishes were also invented in during the raj and one of the most popular one is Jalfarezi.This is dish is a must in all Indian restaurant menus all over the world. In a survey in 2011, Jalfrezi was rated the most popular dish in UK Indian restaurants.
Jalfrezi is 'hot' dish . I mean hot not because its served hot but due to extra green chilies and red chili powder added in the simmering dish.It usually also contains visible onion, tomato and capsicum. It is the addition of the green chillis and probably addition of extra chilli powder that sets this dish apart from other typical curries on the menu. During the Raj times , left overs were fired with extra chili and served , the name is derived from Persian word parhezi means a suitable diet and jhal in Bengali means spicy food
Indeed a very popular dish in Great Britain but has its origin in India as was invented during the British
Raj in India. Jalfarezin which many nick names such as JALFRAZI, JHALL FRYZY, ZALl FREZI, is a type of a curry which can be made with chicken , meat , fish and even just vegetables
Every restaurant and even every house hold have their special recipe of this dish and ask any one they with say their home recipe is the most tasty. I say the same that one cooked in my house is extra special as its not only hot but has a twist which I will share in this column.
CHICKEN JALFAREZI
INGREDIENTS
INSTRUCTIONS
In a pan add olive oil and add chopped onion and bay leaf Saute till light golden brown.add ginger
Add chicken pieces and stir for 3 -4 minutes
Add tomato pure and other vegetables sauté for few minutes
Add water and cover with alid and keep on low simmer till the chicken is cooked and the dish is semi dry
Add butter and stir for about a minute garnish with chopped coriander and prunes
Add cream stir in and remove serve hot with basmati rice or crisp nan or pita bread